NAKED® PUMPS
Our patented and innovative monolithic ceramic dosing pumps
Having no coating our high tech ceramic pumps are manufactured from single monobloc pieces of ceramic which are then machine finished to a high specification.  Discover our innovative ?Naked? line with just one material in contact with product and inlet/outlet built in the body of the pump.
Pharmalox® and Pharmazirc® are Neoceram's exclusive compounds designed to deliver superior performance in sterile applications. They are extremely high density, non-cytotoxic materials having a low friction coefficient in conjunction with exceptional chemical and wear resistance.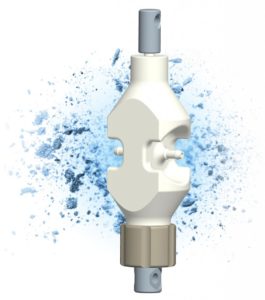 The evolution of a dosing pump
Over the years, Neoceram has been gradually improving the materials and designs of dosing pumps.
Starting from a traditional stainless-steel pump, we introduced high tech ceramic components, updated the stainless-steel design, and improved the performance resulting in achieving a finely tuned pump; continuous development subsequently takes the technology to the next level: The naked pump.
Our patented solution for demanding pharmaceutical applications
Excluding the filling machine connections which are manufactured from stainless steel the pump cylinder and piston are made entirely from single monolithic ceramic material.
Should any nuts be required for the fixing of for example Teflon hoses then these are made of PEEK.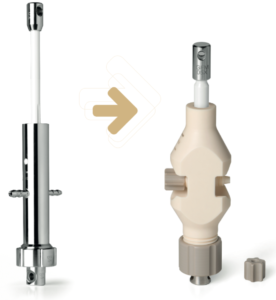 Our Naked® pumps combine outstanding design with superior performance.
Being a compact and solid design even the hose connections are protected by recessing them into the ceramic pump body.  These high-performance pumps are ideal for metal sensitive products having absolutely no contact between product and metal.
Being fully compatible with machines supplied by most of the major manufacturers the 'Naked Pumps' are of course FDA and directive 80/500/EEC compliant.

POSITIVE POINTS:
No product metal contact
One material in contact with the product
Improved cleanability
Compact and solid design
Faster cooling
FDA compliant
Fully compatible with existing machines
Ideal for CIP/SIP
NEED SOME HELP? WE'RE HERE FOR YOU
Neoceram is renowned for the quality of its products but also for its services.