Solutions in response to the specific needs of the food industry
NEOCERAM Food designs, develops and manufactures high ceramic based components for the food production industry. To enable customers to meet the most severe hygiene and health standards of the food industry, Neoceram offers custom designed and in-house manufactured technically innovative ceramic solutions and products.
Neoceram applies experience and expertise, dedicated materials and innovative assembly techniques to meet food industry specific requirements. Our engineering team seeks to establish long term partnerships with our customers to develop reliable, flexible and easy to maintain solutions.
NEOCERAM Food is proud to be an Orthodox Union certified company for Kosher food filling, and is compliant with CEE 1935/2004, Japan and California regulations.

NEOCERAM Food has expertise in the filling of many products, including:
| | | |
| --- | --- | --- |
| Yoghurts with fruits | Cheese Spreads | Molten Cheese |
| Sauces | Soups | Jams & Marmalades |
| Milk | Ice Cream | Chocolate |
For 20 years Neoceram has been the market leader in the development and manufacturing of ceramic precision dosage solutions (pumps, valves and filling systems) for the optimization of fluid treatment in pharmaceutical and cosmetic applications.
Building on its expertise in sectors with high hygienic standards Neoceram has now developed dedicated ceramic seal-less solutions in response to the specific needs of the food industry.
Thermazyl®, our ceramic compound specifically developed for food applications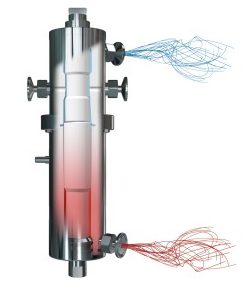 Pharmazirc® and Pharmalox® are our proprietary ceramics developed to deliver outstanding sterile filling performance (i.e.: resistance to sterilisation and mechanical stress and superior cleanability).
Thermazyl®, our newly developed compound, combines the characteristics of Pharmalox® and Pharmazirc®, with a superior resistance to thermal shocks, (thermal gradients between hot vapor and cold water used for cleaning and sterilization (CIP and SIP)).
Thermazyl® is specifically formulated for the food industry and is the solution for:
• Clean and aseptic filling requiring fast sterilisation cycles
• High temperature dosage (up to 100°C)
• Dynamic CIP (no gaskets, no seizing)
Neoceram Thermazyl® is X-Ray detectable.
Advantages of our ceramic solutions for food dosing
Superior wear resistance
High corrosion resistance
Suitable for daily cleaning/sterilisation cycles
NO SEALS (self-sealing solutions)
NO LUBRICANTS (dry-run allowed)
Hygienic design
NO DRIPPING
NO SEIZING due to solid inclusions
High accuracy
Superior process for fibrous food
Improved productivity
Reduction of errors
Risk mitigation
NEED SOME HELP? WE'RE HERE FOR YOU
Neoceram is renowned for the quality of its products but also for its services.