A new generation of pumps
A new generation of pumps for sterile filling
The "Naked" design is an exclusive innovation which brings together the features of the standard ceramic pump design with the advantages of a patented solution.

Advantages of classic design:
Superior wear/corrosion resistance
No coating
FDA approved materials
Zero porosity
Ultra LOW Ra/friction coefficient
Low thermal expansion
Dry run possible (no need for lubricants to start)
Additional advantages of naked pump:
Cylinder and connections are machines in one solid piece of ceramic (monoblock)
Only ceramic in contact with the dosed product
Conical (seal-less) ceramic plug
Fully compatible with existing fillers
Characteristics of Naked ceramic pumps
The naked pump version combines outstanding design with superior performance
Outstanding design:
Very compact and solid
Built-in ceramic connections protected by recess in machined in the ceramic pump body
In line with recent FDA and CGMPs guidelines (fewer components)
Lighter than stainless steel version (for large volumes)
Fully compatible with existing machines
Superior performance:
Only one material (ceramic) in contact with product
Improved cleanability
Suitable for metal sensitive products
Perfect stability over time and repeated autoclaving
Main features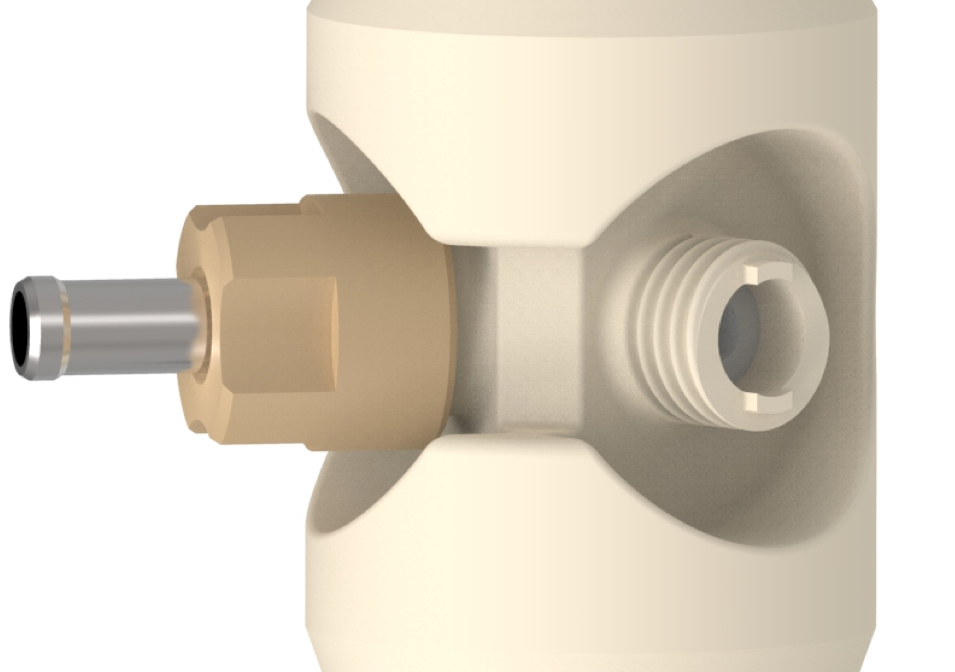 In/out ports
Thread machined in the ceramic pump body
Recess built in the body of the cylinder to protect inlet/outlet connection from shocks during handling
Recess designed to be easily cleaned
In/out lets with Peek nuts (to avoid steel marks on ceramic and nut seizures)
Customized thread profile
Pump body without stainless steel case
The cylinder is built in one solid piece of ceramic. There are no stresses applied on the ceramic body by thermal expansion of stainless steel case thus very stable pump geometry over time and after repeated autoclaving. Also, pump weight are reduced (the weight difference is greater for larger volumes: up to 1kg less).
Seal less conic plug
The cylinder has a liquid tight ceramic bottom plug (no gasket required). The parts are sealant thanks to the accurate lapping and metrology of the conical surfaces and the slight pressure applied via the peek nut. This solution has been chosen because it guarantees the best and easiest cleanability, is suitable for all products (including metal sensitive ones).
As an additional feature, Neoceram is developing interchangeable ceramic plugs to facilitate assembling and repairing.
Improved cleanability
Naked pump absorption of hydrogen peroxide is comparable to the one of traditional ceramic pumps. There is no influence on the H2O2 releasing time. Such pumps are suitable for Ultrasonic bath cleaning.
All the surfaces in contact with the product to be dosed can be polished up to very low roughness (upon request): the Ra can be lesser than 0.1 microns on Pharmazirc® surfaces and lesser than 0.3 microns on Pharmalox® surfaces.
Benefits of Naked ceramic pumps
Patented solution (with conic plugs and Peek nuts)
innovative hygienic design (fewer components)
Plug & Play solution with existing standard pumps
Possible revamping of old machines
True no metal contact solution given as standard
Neoceram at a glance
Since its foundation in 1985, Neoceram has specialised in the development and production of ceramic solutions for demanding applications. The company, that relies on advanced technology and excellence, is now the market leader in the development and manufacturing of ceramic precision dosage solutions (pumps, valves and filing systems) for the optimisation of fluid treatment in pharmaceutical, cosmetic and food applications. Neoceram has more than 20 ans years expertise in sterile applications and is ISO 9001 qualified since 1998.

Communication Team
 +32 64 671 450
 info@neoceram.com